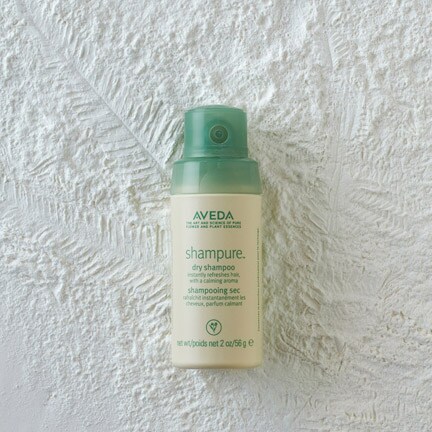 Learn More About Aveda Dry Shampoo & Conditioner
Cleansing and conditioning your hair are two major steps in a healthy hair care routine, but sometimes hair can fall flat, produce oil, or create tangles in between our regular shampoos. That's why dry shampoo and conditioner are a welcome addition for anyone who finds themselves in need of a little refresh -- even on the busiest of days.

We've created a collection of dry shampoo and conditioner to keep your hair looking fresh and full all day long. Dry shampoo absorbs excess oil and revives your hairstyle, so you can sleep in a little longer or refresh for an evening out. Thermal dry conditioner instantly conditions and softens, leaving you with hair that's detangled and smooth.

Aveda Shampure™ Dry Shampoo revives your hair and your senses with just one spray. Naturally derived powders work to revive each strand of hair and absorb excess oil and impurities. Fit for all hair types, Shampure™ dry shampoo will leave your hair feeling clean and weightless. Use our dry shampoo to refresh your hair between washes, to extend a blowout, or to add texture to your hair when styling. Plus, it has a calming aroma made from 25 pure flower and plant essences. Certified organic lavender and ylang ylang will give you a moment of calm on busy days.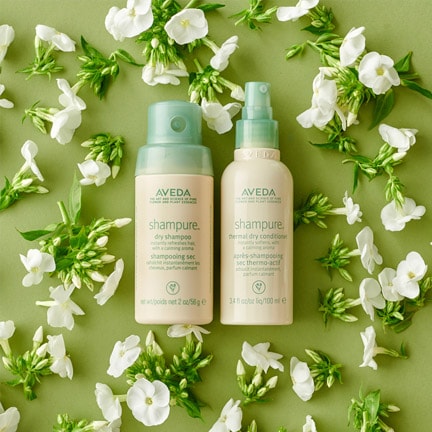 Aveda Shampure™ Thermal Dry Conditioner also helps keep your hair looking healthy between regular washes. The formula uses naturally derived ingredients that are gentle on hair, while refreshing all hair types and textures. Its versatility makes it the perfect solution for those in search of shampoo and conditioner for curly hair or straight hair. The conditioner instantly detangles, conditions, and softens using a blend of certified organic jojoba and sunflower oils to release tangles and condition each strand. Hair is enveloped with softness that is full of natural movement, and a perfectly polished look can be achieved when you follow with heat.

Dry shampoo and conditioner can be saviours during busy days and rushed evenings, but they are only one part of a healthy hair care routine. A comprehensive hair care regimen should also include shampoos, conditioners, and scalp care. It's important to find the right products for your hair type and texture, taking care to use natural products that will keep your hair healthy and happy. Those with flat hair may benefit from a designated shampoo for fine hair, like Aveda's Pure Abundance™ Volumizing Shampoo. The best shampoo and conditioner for dry hair are ones that infuse hydration, like Dry Remedy™ moisturising shampoo and conditioner.

Soft, voluminous hair comes from a natural, healthy hair care regimen. Using naturally derived hair products will strengthen and smooth every strand, while a dry shampoo and conditioner keep your hair looking beautiful at every time of day. Try Aveda's dry shampoo and conditioner for revived, conditioned hair all day long.