We all want soft, smooth, and voluminous hair. We want locks we can run our fingers through, but many women struggle to grow hair that's thick and healthy.
Flat, thin, and limp hair are all common problems among women. These conditions may arise as the result of bad hair habits, like rough brushing or the overuse of heat tools, or it may be that your hair care routine isn't helping the health of your hair.
Luckily, several specially formulated products can help thicken your hair for a fuller look. An exfoliating shampoo can cleanse the scalp and prepare it for healthy hair growth, while a thickening conditioner lifts hair from the roots to create an instant fullness. A scalp revitaliser is the key to renewing your scalp and building a healthy foundation for full, thick hair.

CHOOSE AN EXFOLIATING SHAMPOO
The products you use in your hair care regimen can have a huge impact on the health, and therefore fullness, of your hair. Products that contain harsh chemicals can create brittle hair, so it's best to use products that use natural ingredients that are gentle and effective. If you're ready to do an overhaul of your routine, then an exfoliating shampoo is a great place to start.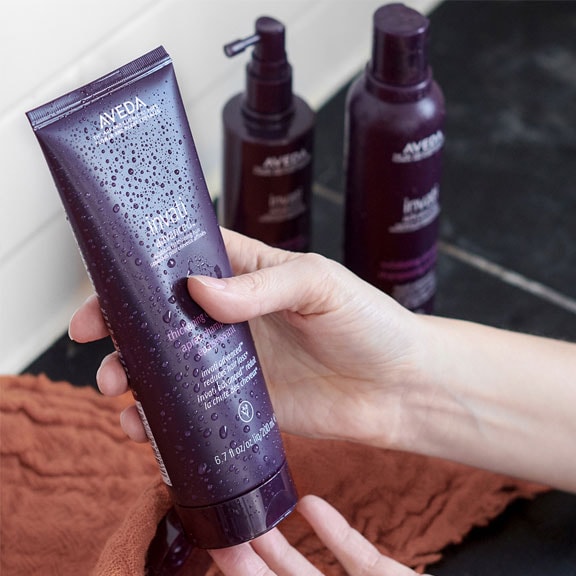 Exfoliating shampoo is some of the best shampoo for thin hair because it works on the scalp, which is the foundation of thick hair. These shampoos work to gently exfoliate, cleanse, and renew the scalp while gently nourishing hair with healthy oils, herbs, and extracts.
Aveda's Invati Advanced™ exfoliating shampoo is the first step in the Invati Advanced 3-step system. The system is designed to reduce hair loss due to breakage and restore your hair for a full and voluminous look.
The Invati Advanced™ exfoliating shampoo uses a range of naturally derived ingredients that are healthy for both hair and scalp. A blend of Ayurvedic herbs like ginseng and turmeric invigorate your scalp as you massage the product in. Aveda's formula removes scalp build-up with Wintergreen-derived salicylic acid, making way for a healthy scalp that will produce healthy hair.
The shampoo also includes a gentle conditioning property that detangles and nourishes hair to prevent breakage.
These natural ingredients have major benefits for your hair and scalp. Because they are gentle, they help restore healthy hair and defend against damage. Invati Advanced™ exfoliating shampoo also promotes thick, full hair from the source. It cleanses and invigorates the scalp so that healthy hair can grow.

CONDITION YOUR HAIR WITH A THICKENING PRODUCT
In addition to a shampoo for hair growth and thickness, you'll also want to add a high-quality thickening conditioner to your hair care regimen to add body and lift. While hair thickening shampoo focuses on a happy and healthy scalp, hair thickening conditioner helps to bring hair to life from the roots.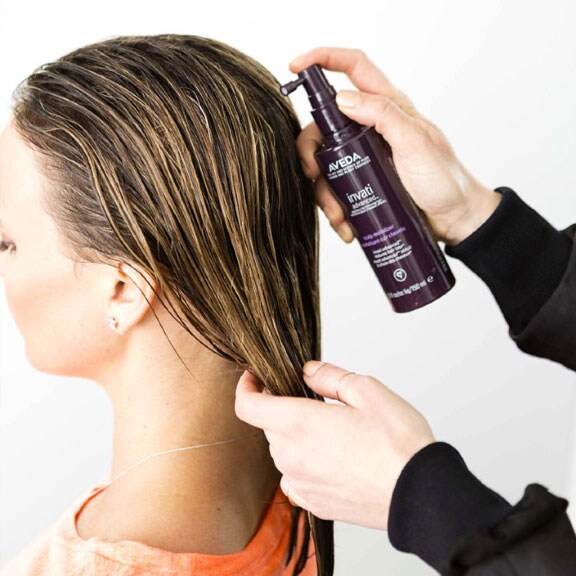 Aveda's Invati Advanced™ thickening conditioner is the second step in the Invati Advanced 3-step system. Like Aveda's hair thickening shampoo, the Invati Advanced™ thickening conditioner uses naturally derived ingredients to restore thinning and brittle hair. The thickening conditioner takes the process one step further by using certified organic amla to instantly thicken hair from the root. The instant lift gives you a weightless, full look.
The formula also uses naturally derived amino acids to mimic your hair's building blocks, which helps to strengthen each strand. An airy blend of plant oils conditions the hair and helps protect it from damage, allowing it to grow long and strong for an all-around thicker appearance.

REVITALISE YOUR SCALP
The health of your scalp plays a crucial role in the volume and strength of your hair. A healthy base is essential for long, thick hair.
Revitalising your scalp is easy when you use a product targeted for the delicate skin below your hair. Aveda's Invati Advanced™ scalp revitaliser is formulated to renew and refresh your scalp, making way for healthy hair with body and bounce.
While Aveda's exfoliating shampoo is the best shampoo for thinning hair and restoring the scalp, the scalp revitaliser takes it a step further. Using naturally derived ingredients, the Invati Advanced™ scalp revitaliser supports your hair's natural keratin, making your hair look and feel thicker.
A blend of tangerine peel and Japanese knotweed penetrates through the build-up that can clog pores, while ginseng and turmeric offer your scalp an invigorating massage. The revitaliser also includes amla to lift your hair from the roots.
When used together, the Invati Advanced™ shampoo, conditioner, and scalp revitaliser can give your hair new life, promoting strength and fullness so that you can enjoy thicker, fuller hair.
Thin, dull, or lifeless hair can make us feel self-conscious about our hair. To pump up the volume and restore your hair to a healthy state, it's essential you use products that are gentle yet effective. The Invati Advanced™ range can help refresh your hair and scalp so you can show off thicker, fuller hair.