Just like the freckles on your nose or the colour of your eyes, your hair is a part of who you are. Full and healthy hair doesn't just affect how you look on the outside, but also how you feel on the inside. That's why thinning hair and hair loss can make us feel less than confident.
Hair loss can affect both men and women at a variety of ages. No matter your age, you want thick, full hair that makes you feel happy and healthy.
Treating your thinning or breaking hair is all about taking steps toward prevention and using the right combination of hair care products – especially if you're concerned about thinning hair—or you're experiencing hair loss due to breakage from scalp-pulling styles (such as tight braids, ponytails, or extensions), aging or post-pregnancy

1. Prioritise prevention
One of the best ways to address hair loss is to prevent it. If you've already noticed breaking or thinning hair, then prevention steps can be used to avoid further hair loss.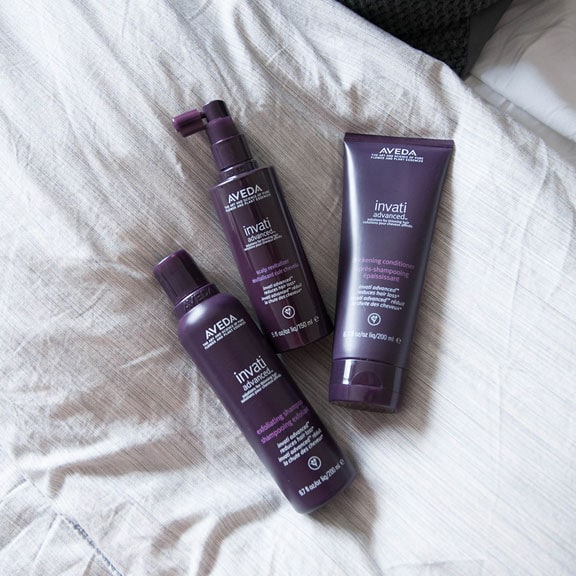 Several habits can contribute to hair loss, such as styling your hair in ways that put stress on your strands. Hairstyles like tight ponytails, braids, and buns can pull on the delicate hairs that sit on your hairline, making them break or fall out. It's best to avoid these types of hairstyles altogether, but if you need to style your hair in a ponytail or braid, be sure to use gentle hair products.
 You can also prevent hair loss by eliminating heat and chemicals from your routine. Hair tools that use high heat can damage the strands of your hair, causing them to break or fall out.
Chemicals that lighten, bleach, or straighten your hair are also culprits of hair loss.

2. Use an exfoliating shampoo
Our Invati Advanced™ hair care system is designed specifically for thinning or breaking hair. The best shampoo for hair growth and thickening is one that exfoliates and revitalises your hair from the root all the way to the tips.
An exfoliating shampoo can help remove build-up while gently exfoliating the scalp. Our exfoliating shampoo is part of the invati advanced™ 3-step system, which targets thinning hair and helps reduce hair loss due to breakage. Invati men™ was created specifically for men's hair care needs.
Our Invati Advanced™ exfoliating shampoo uses wintergreen-derived salicylic acid to remove build-up that can clog pores while cleansing and renewing your scalp. The shampoo for thinning hair also takes advantage of ginseng and certified organic turmeric to invigorate the scalp when massaged in.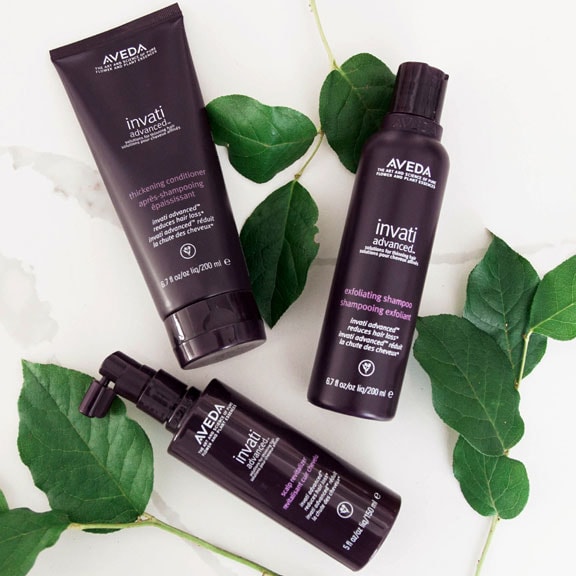 3. Try a thickening conditioner
When it comes to thinning hair care, an effective conditioner is just as important as an exfoliating shampoo. Our invati advanced™ thickening conditioner is a key component in the 3-step system, reducing hair loss due to breakage and creating thicker and fuller hair.
Certified organic amla instantly thickens hair, so you leave every shower feeling more confident. Naturally derived amino acids help mimic hair's building blocks to help strengthen hair from roots to ends. Hair is left thicker with fullness that lasts all day.
Although the product is designed for thinning hair, it also serves as your regular conditioner. A blend of plant oils helps condition and repair hair for smooth and silky results.

4. Revitalise your scalp
Your scalp is the foundation of your hair, which means that it needs to be healthy for your hair to grow full and thick. One way to help keep your scalp happy and healthy is to incorporate scalp massage into your regular routine. Scalp massages can increase circulation and promote hair growth.
You can also add a scalp revitaliser to your hair care regimen. A scalp revitaliser not only invigorates the scalp when massaged in, but it instantly thickens to help lift hair at the root.
Our invati advanced™ scalp revitalizer can reduce hair loss due to breakage when used with Aveda's thickening conditioner and shampoo for thin hair. The formula uses a blend of tangerine peel and Japanese knotweed to help support hair's natural keratin, creating stronger, fuller hair. Organic amla helps lift your hair at the root.
It's time to take back what you've lost. By avoiding harsh hair habits and using products formulated for hair loss, you can regain thick, fuller hair.