At Aveda, we believe that nature is the best beauty artist of all. By using natural ingredients, we can create skin and hair care products that are gentle, yet impressively effective.
Turmeric is one of the most powerful and versatile natural ingredients, but what is turmeric, and what is turmeric good for?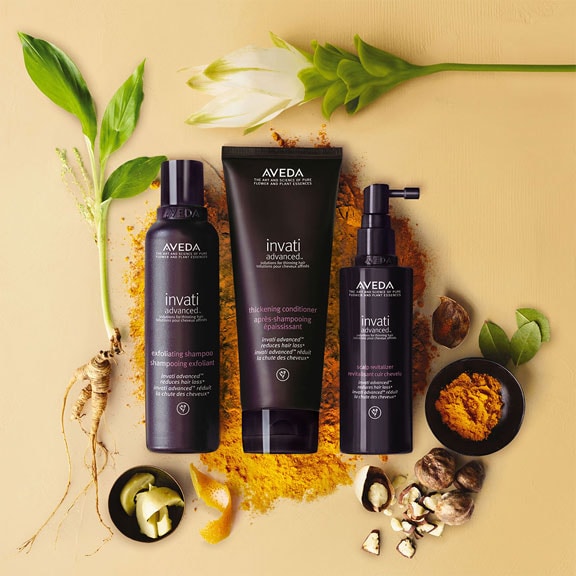 Turmeric is a potent herb found in nature. It comes from the turmeric plant, called Curcuma Longa, which is grown predominantly in India and Southeast Asia. The root of this plant is ground up to create the very fine, yellow powder that we call turmeric.
Turmeric can be used as a spice or colouring agent in cooking, but its benefits go far beyond the world of cuisine. Because of the compounds found in turmeric, it makes for a potent addition to hair and skin care products.

The benefits of Turmeric
Anti-inflammatory
There are several turmeric benefits for skin. One of the most valuable components of turmeric is its anti-inflammatory properties. When skin is inflamed, it's irritated and uncomfortable. It might even be red or puffy. Turmeric anti-inflammatory properties can help soothe and calm the skin, revealing a more radiant complexion.
Brightening and evening
Another skin benefit is turmeric's brightening and skin evening properties. Potent turmeric extract can help even out the complexion, as well as create a luminous look in skin. When combined with other natural ingredients, turmeric works to produce healthy, radiant skin.
Aids in exfoliation
Exfoliation is key to skin that's healthy and radiant. By exfoliating, we not only remove beauty products like makeup, but also eliminate the dirt, environmental aggressors, and dead skin cells that build up on our skin throughout the day. When used in skin care products, turmeric can help exfoliate the skin to reveal a clean, clear complexion.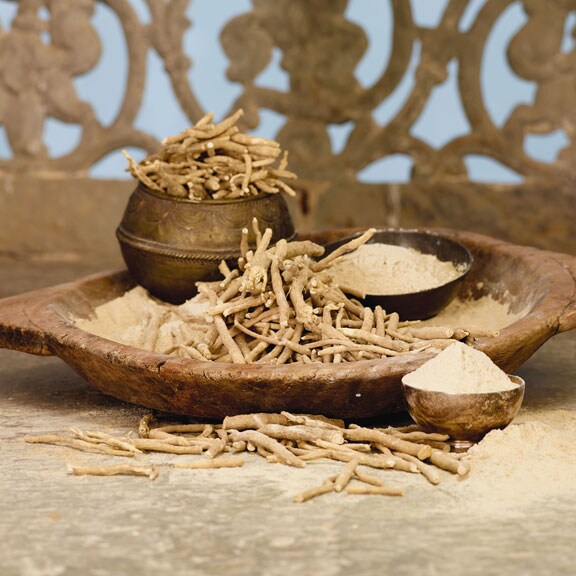 Helps REDUCE hair loss
Turmeric not only aids the health of our skin but our hair as well. One of the most powerful ways that turmeric benefits our hair is to help reduce hair loss. Turmeric can be used in shampoo for thinning hair as well as thickening conditioner to help improve hair's health and reduce hair loss due to breakage.
Improves scalp health
The scalp is the foundation of hair, so keeping it healthy is essential if you want hair that's long and strong. Turmeric is one natural ingredient that invigorates the scalp while remaining gentle on delicate skin. As turmeric revitalises the scalp, it makes way for healthy hair to grow.

Turmeric in Aveda hair and skin care
Our hair and skin care products use natural ingredients to soothe, revitalise, brighten, and treat the hair and skin, which is why it's used in a range of Aveda products.
Turmeric is an essential ingredient of the formula in our Invati Advanced™ 3-step system. In fact, turmeric is present in all three steps of the Invati range. The Invati Advanced™ system targets hair loss due to breakage. The 3-step system helps strengthen and thicken hair while reducing hair loss due to breakage by 53%.
We begin with the Invati Advanced™ exfoliating shampoo, which cleanses the hair while gently exfoliating and renewing the scalp. Certified organic turmeric is massaged in to improve scalp health, while wintergreen-derived salicylic acid helps remove the build-up that can clog pores.
In addition to hair thinning shampoo, the Invati range includes a thickening conditioner that instantly lifts hair for a fuller look. Along with turmeric, the thickening conditioner uses certified organic amla to instantly thicken and naturally derived amino acids that mimic your hair's building blocks and helps strengthen your hair from roots to ends.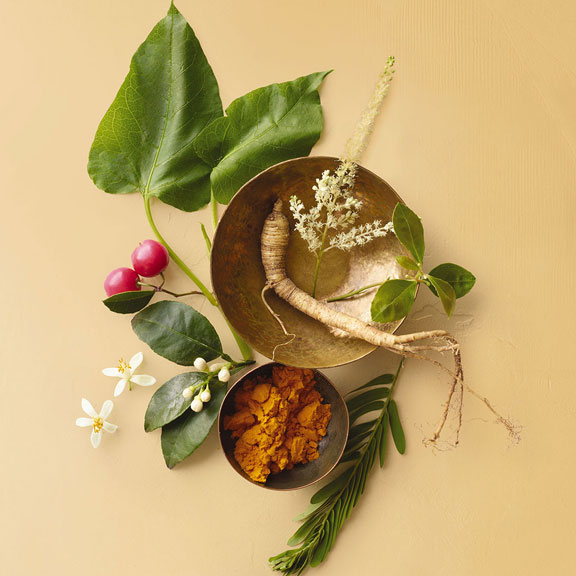 Turmeric also plays a vital role in the third step of the Invati Advanced™ system – the scalp revitaliser. The formula uses organic turmeric from India and ginseng to invigorate the scalp when massaged in. The scalp revitaliser also takes advantage of other wholesome ingredients like tangerine peel and Japanese knotweed to penetrate the surface of hair and help support the hair's natural keratin. Certified organic amla is used to give instant lift to your hair.
Turmeric is an effective element in hair care, but its healthy properties are just as valuable in skin care. This ingredient is present in Aveda's Tulasara™ Wedding Overnight Masque, which gives you luminous, wedding-day skin every day. Turmeric extract helps to even the look of skin tone over time, creating a smooth canvas free from discolouration. In addition to turmeric, the formula makes use of natural ingredients such as plant stem cells and organic apricot seed oil. These help support skin's natural repair processes that happen overnight, so that you can wake up to skin that's brighter and more vibrant.
Turmeric is a powerful part of hair and skin care. It's not only effective, but also versatile and dynamic. From soothing skin to healing the scalp, turmeric is nature's answer for beautiful hair and skin.
Discover the power of turmeric in Aveda's Invati Advanced™ and Tulasara™ collections.