Short haircuts for women have some major perks. Fewer tangles, shorter prep time, and using less product are just a few reasons that short hairstyles for women are always on trend.
Whether you like the sassy appeal of curly hairstyles or crave the glamour of big volume, there are plenty of ways to style your short hair. Creating the perfect curls and adding thickness are just two techniques that can be used to keep your hairstyle looking flawless.

CREATE CURLS AND WAVES
Adding curls to your hair creates body and bounce, instantly transforming your hair from flat to fabulous. Many women wonder how to create curls and waves that'll last from day to night.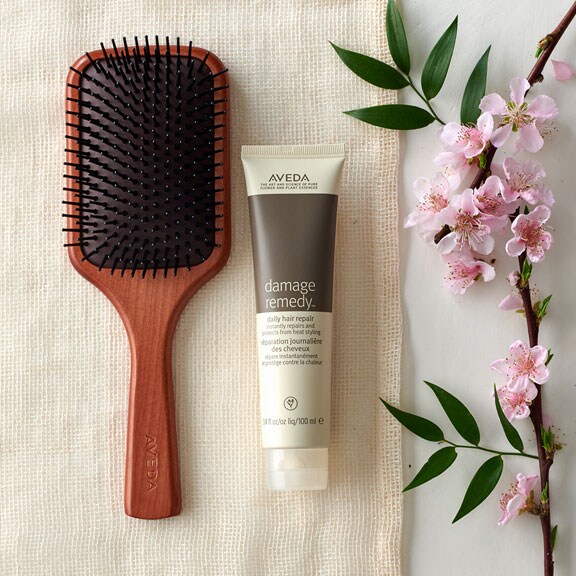 Luckily, creating beautiful curly hairstyles doesn't have to be difficult. In fact, you can use braids to help your hair hold shape and reduce the amount of heat you put on your hair.
To start, you'll want to shampoo your hair to create an even base for styling. After shampooing and towel drying your hair, you'll then apply some product that will add weightless volume and help your style hold after it dries.
The first product that'll help create flawless curls and waves is Aveda's Pure Abundance Style Prep. This product will make sure your hairstyle doesn't fall flat. After applying, comb the product through to ensure every strand is covered. Next, use some Phomollient Styling Foam to add medium hold to your hairstyle. Apply at the roots and bring it down to the ends with your fingers.
After applying your product, dry your hair until there's only a little moisture left. When your hair is almost dry, you're ready to start styling.
First, part your hair down the middle all the way down to your neck. Then, you'll want to split your two sections into two sections each by parting your hair from the top of your head straight down to your ear. Keep each section separate with clips or hair ties.
After you've sectioned your hair into four parts, begin French braiding one section of hair by splitting the section into three equal parts and alternating the outside pieces of hair over the middle piece. Repeat your braids in each section until all of your hair is braided.

When the braids are complete, use your hair dryer to completely dry the hair. You can also wait for your hair to dry naturally while you sleep or relax at home. Then, gently take each braid apart with your fingers.
To finish off your curly hairstyle, use a curling rod to add curls to the ends of your hair. By adding some bend to your hair, you'll be left with an effortless look.
Add a few spritzes of hairspray while tousling your hair to add some last minute lift and you'll be ready to show off your perfect curls and waves.

CREATE THICKER LOOKING HAIR
No matter if you have long locks or a bob haircut, all hairstyles can use a little lift. If you've always wondered how to create thicker looking hair, we've got you covered with a simple way to add body and volume to all lengths of hair. This setting technique is especially helpful for short and medium hairstyles.
To begin, shampoo your hair to create a blank slate for styling. Next, add a heat protector like Aveda's Brilliant Damage Control to every strand. This product will help protect your hair from the hazards of heat styling. You'll also want to add a product for body and fullness, like Aveda's Thickening Tonic. Comb the product through to ensure even saturation.
After both of your products are well spread throughout your hair, use your hair dryer to partly dry your hair. When most of the moisture is removed from your hair, you're ready to start styling.
Begin by separating your hair into sections. Your first section will be on top of your head, forming a strip straight back from your forehead. This section should be narrower than the width of your round brush. Clip this hair away so that it doesn't interrupt your styling.
Next, separate your remaining hair into two sections by parting it down the back of your head. Take one of your new sections and create a smaller section by parting horizontally from your ear toward the back of your head. This will be the first section you'll use for round brushing.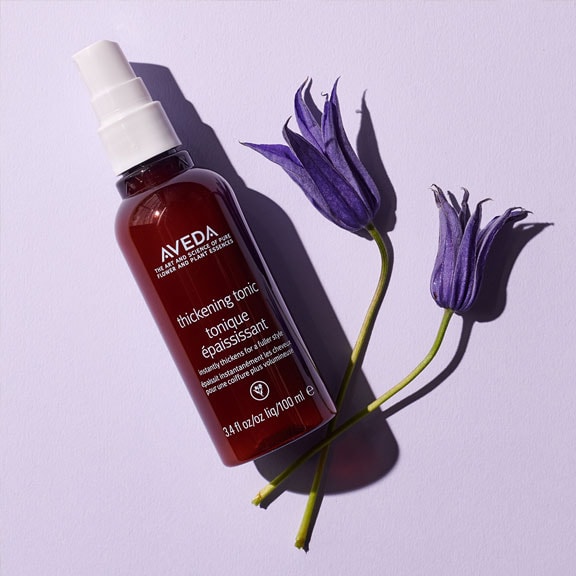 To begin your round brushing, place your brush underneath the hair and bring to the tips of the strands. Roll upwards so that all the hair from your section is secured within the brush. Then, use your blow dryer to blow the hair downwards over the hair shaft.
After you've dried the hair for a few seconds, turn the blow dryer off and remove the round brush. Use your fingers to roll your hair upwards into a curl, stopping when you reach the base of your head. Use a long clip to secure the curl to the base of your head.
Repeat the round brushing and clipping on the next sections of your hair, finishing with the top section of your hair. Learn exactly how to section your hair for this setting technique in our how-to video.
After you've brushed and clipped each section of your hair, let it cool and set for at least five to ten minutes. Allowing it to cool fully is essential in keeping the thickness and volume in your short hair.
When you're confident your hair has cooled, remove all the clips and run your fingers through the volume you've just created. For your final step, use a wooden paddle brush to relax the curls. Do this by lifting the tighter curls with your fingers and using your brush to gently brush the hair upwards from underneath.
Add a spritz of hairspray and enjoy your full, thick, and voluminous hair!
Styling short hair doesn't have to be a hassle. Using these techniques will help you have gorgeous hair day after day.